Moving into a new house can be a memorable moment. Unfortunately, we find ourselves amidst a pandemic that has overturned our lives. The move may have been planned earlier, but the COVID-19 restrictions and concerns can become a cause of distress for many. That said, with some preparation and a good check-list it is possible to make the moving-in process smooth in these uncertain times.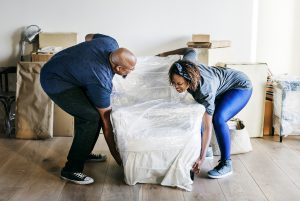 ● Work in advance – Before you start the process of moving-in, have a thorough check of the new house done. See if everything is in order such as plumbing, electricals, woodwork, internet connection etc. It will be easier to get these sorted prior to moving-in, to avoid last minute hiccups.
● Store Documents well – Keep documents in a safe place to avoid misplacing them during the moving-in chaos. These include the rent lease, new house documents, taxes, insurances, Aadhaar card and gas connection.
● Update your address – Owing to Covid-19 restrictions, many places may be working on limited timings, so it is better to get the new address updated in various documents beforehand. The documents to be updated are – banking, internet connection, life insurance, gas connection, car insurance, health insurance, election ID and Aadhaar card.
● Know COVID-19 restrictions – Since there are several movement restrictions, at least a week prior to the moving-in, find out the rules and regulations in your city. It is advisable to practice caution. If anyone falls ill during the move, immediately isolate and get help. Have a back-up plan and preferably choose a professional agency, who can help make the process easier.
● Sanitisation and cleanliness – Get your new house professionally cleaned and disinfected before and after settling in. If you are unable to get help, keep handy cleaning materials. Disinfectant wipes and sprays are also helpful.
● D-Day checklist
Be Flexible: While you may be prepared, it is possible that there could be delays, so being flexible and anticipating any last minute issues
will help you deal with it calmly.
Label items: To avoid confusion, label the boxes so you can open them as needed in the new home.
Connections: Keep the necessary contacts ready to help you through any issues. Packing materials: Ensure in advance that you have enough packing material such as bubble wrap and cardboard boxes.
Safety measures: If you have a toddler or a pet, make certain there are no sharp items lying around.
Be prepared: Keep a water bottle, snacks, handwash, towel and disinfectants on-hand to get you through the day.
While the pandemic may be worrisome, with just a little planning and coordination you can enjoy a stress-free first day in your new home. Choose Propcierge as a partner to make your moving-in process a comfortable one.
Propcierge, a unit of Global Adjustments, is a one stop destination for all your real estate needs. Services include – buying, renting, documentation, rent collection, repairs, maintenance, deep cleaning and interiors. Augmented by technology, 24*7 Customer Care and expert knowledge, Propcierge is the brand of the future.